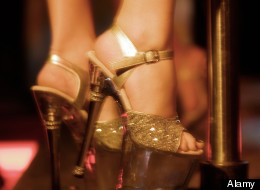 Here we go again.
The latest teacher to be fired for having a past—Stacie Halas.
According to the Huffington Post, "A Southern California science teacher was fired Wednesday night for performing in a pornographic video, school district officials said."
Halas had performed as a porn actress before becoming a teacher, so I find it difficult o understand legally how this can impact her career as a teacher now.
The problem apparently stems from the fact that some students became aware of a video available online.
Perhaps the problem lies with the students and the parents who were not more aware of what their children were doing on the Internet.
It seems we slide into dangerous territory when we begin deciding that a woman's past occupation should determine her present situation. All accounts are that she was a good teacher.
Just because women were once employed in the adult entertainment business doesn't mean they can't go on to pursue other work.
You'd think that people would be happy to see that porn actresses and strippers can make something of themselves with their clothes on.
There should be no disgrace in our pasts.
And there should be no discrimination just because some of that past "work" can be found on the Internet.