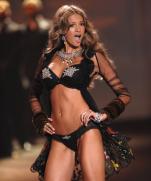 From
The Hollywood Gossip
:
"Kylie Bisutti, a Victoria's Secret lingerie model, recently quit that job because it conflicted with her hardcore Christian beliefs, and to save her body for her husband.

She will still model, but only in ways that honor the Lord."
Bisutti was discovered at nineteen in a Victoria's Secret modeling contest and has since modeled for them.
Kylie Bisutti was interviewed on Good Morning America where she talked about her epiphany when her 8-year-old cousin was watching her.
"I was doing my makeup in the mirror one day and she was watching me… She just looked at me and she was like, 'I think I want to stop eating so I can look like you.'"

"I didn't want to be that type of person that she thought she had to do that. Thousands of girls that think beauty is an outer issue, and really it's a heart issue."
Most comments have been positive for supporting Bisutti's choice. There have been a few people who can't understand why it took her so long to see the light. But we never know when we are going to change our minds about things like this.
I think it's a strong message that lets women know it's okay to do one thing and realize later you can change; we are always evolving.
"I'm definitely going to pursue modeling," she said. "I just want to be more wholesome and the jobs that I choose are always going to be honoring the Lord."
I do wonder about how Bisutti will determine what jobs will be "honoring the Lord." Is modeling in any way honorable? She will still be representing an image to young women about the importance of external beauty even if she has more clothes on.
How do you feel? Do you think it's acceptable and healthy to be a model as long as you're wearing clothes? Is there really a difference?