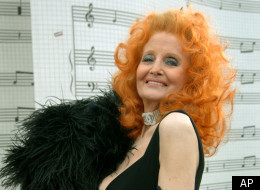 David Moye reports on
The Huffington Post
about burlesque dancer Tempest Storm's leap year birthday celebration.
What I find most fascinating is that she was dancing up to a few years ago.
"Tempest Storm's career trajectory was even longer than her contemporaries. Although she officially retired in 1995 at the age of 67, she occasionally danced on stage until June 2010, when she broke her hip at the Plaza Hotel in Las Vegas, according to the Las Vegas Sun."
Watching this
video
of her really made me realize there is such a lovely vulnerability, sensuality, and openness to well-done stripteases that has so little to do with outright nudity.
Watching her dance brings me back to my days stripping and how much fun I had when I was allowed (and I allowed myself) to strip as performance and not just as body part showing.