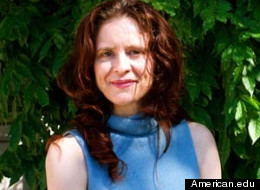 I wrote about Professor Adrienne Pine's breastfeeding in class for the Huffington Post:
Breastfeeding Professor's Non-Incident Makes Headlines: When Will Moms Be Allowed to do it all in Order to Have it All?
Yahoo's headline made me think this professor was using the classroom as political statement: "Feminist Anthropology Professor Blasted for Breastfeeding During Class," but nothing could be farther from the truth.
Professor Adrienne Pine had a dilemma on the first day of her Sex, Gender and Culture class at American University in Washington, D.C when her baby had a fever and couldn't go to daycare. She didn't want her students to miss the introductory class, so she brought along her child to it. Her child did fine for awhile, but when she got cranky, she breastfed for a few minutes until the baby fell asleep.
Professor Pine never meant to make a statement. She was just trying to teach her class. Unfortunately, some students went to the college's newspaper, where they were all too eager to make it a story. Despite Pine's attempts to explain the situation and show what a non-issue this was, it has turned into headline news...
Read the rest at The Huffington Post...